Special Needs Trampolining and Rebound Therapy
Rebound Therapy and special needs trampolining is held at the Saturn V Rebound Hall in Caterham, Surrey; a specialist trampolining centre for adults and children with learning difficulties and other special needs.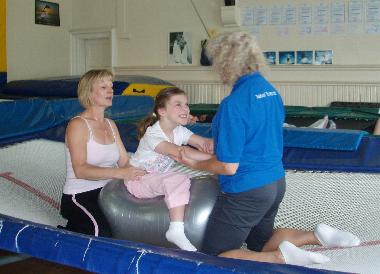 It was set up in 1993 with the aim of offering physical exercise in the form of Rebound Therapy and trampolining to people who could not attend a mainstream club.
The centre is run by Paul and Shirley Kaye who are both BTF/BG qualified coaches and Rebound Therapy coaches and course tutors. They were mentored, validated and approved by the founder of Rebound Therapy - Eddy Anderson.
The centre is approved by the local authority who in 1998 donated £5,500 towards the cost of refurbishing the disabled toilets and safety equipment. In 2000 the council made a further grant for the purchase of specialist equipment. Further substantial grants have been made by Seeboard Energy and the Whyteleafe Round Table to pay for insulation and double glazing in order to conserve heat and energy. In 2007, Surrey Community Action made a substantial grant for the purchase of additional equipment for the centre.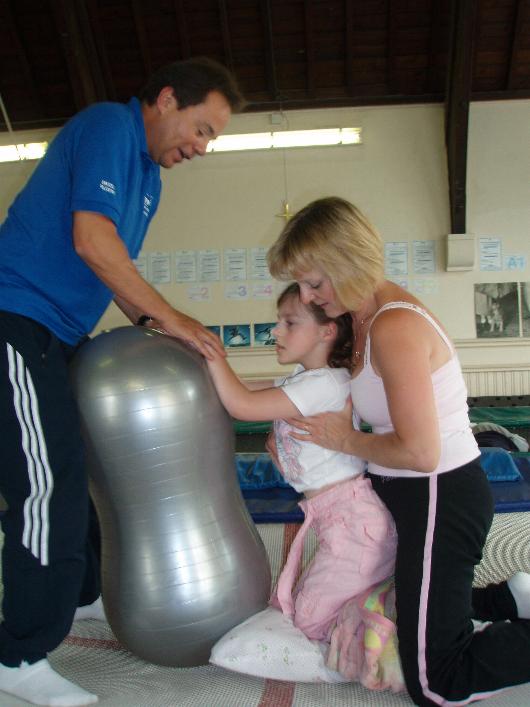 Daytime special needs activities are mainly for day centres, care homes and special needs schools. Evening special needs activities are mainly for children with learning difficulties who are brought by their parents.
Local organisations who bring users to the centre include NHS PCTs, National Autistic Society, Ashcroft Care Services, Gresham Care, Clifton Hill School, as well as many independent care homes and centres.
Sessions are generally for an hour and are at a specified time each week. Some organisations attend more than once a week. Several users at a time can attend the session, the actual number depends on the type of disability involved.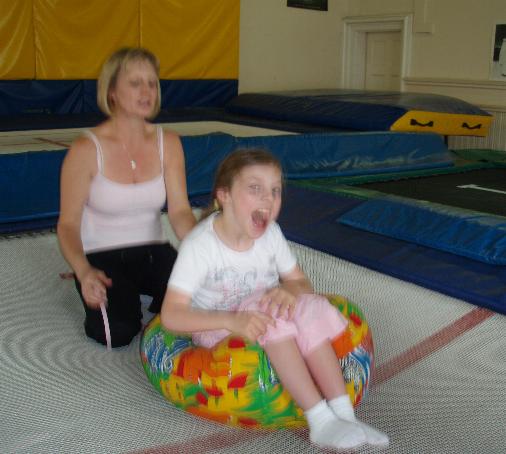 The Saturn V Rebound Hall was the UK's first full time trampoline centre run for the benefit of people with disabilities.
It has 3 full size trampolines with a padded wall and safety end decks.
All coaches and instructors are qualified and approved. They have completed training courses with Rebound Therapy.org and British Gymnastics and are members of the Rebound Therapy Institute.
Please click here for a list of the benefits of special needs trampolining
If you would like further information please contact us.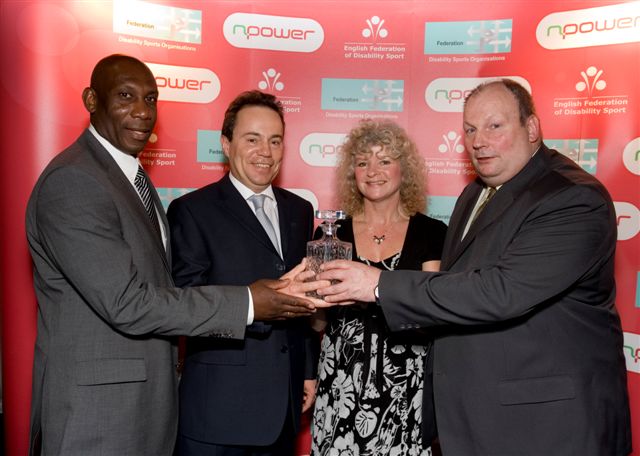 In March 2009, at the Federation of Disability Sports Organisations annual sports awards, Paul, Shirley and Eddy Anderson - the founder of Rebound Therapy - were awarded the npower Community Award for services to disability sports.
Pictured here are Paul and Shirley receiving the award. The presentation was made by well known football referee Uriah Rennie (far left) on behalf of the Federation of Disability Sports Organisations and George Bloom (far right) from npower.