If you received this newsletter by email and the pictures do not show properly, please click on this link: http://www.saturnv.co.uk/newsletters/2008_jan.html
Progress medal winners
Twice a year, all Saturn V gymnasts put on a class display and parents are invited. The purpose of this is to give parents the opportunity to see how their children are progressing and for children to have the experience of performing in front of an audience. After each class display, the gymnast who, in the opinion of the coaches, has made the most progress since the last display is presented with a medal. Medal winners for December's class displays were
De Stafford branch:
Mondays 5.30: Ellie Owen
Monday 6.30: Daisy Roadnight
Wednesday 4.00: Sasha Breen
Wednesday 5.00: Kaitlyn Galvin
Wednesday 6.00: Kerry Hollands
Springfit, Horley:
Bethani Harrison, Toni Jupp, Georgia Banner and Lydia Mayne
Congratulations to all. Here are their pictures:



The next gymnastic class displays are scheduled for the beginning of July.
Recent Competitions
INTER CLUB TRAMPOLINING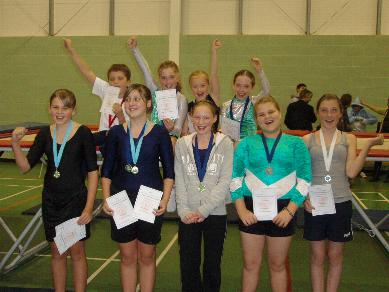 Trampolinists from Saturn V's branches in Caterham, Horley, Oxted, Hurst Green, Reigate, Warlingham, Coulsdon and Selsdon, all met at Moor House School in Hurst Green on Saturday 3rd November for the club's triennial inter-club trampolining competition. As always, the viewing balcony was packed with parents and family keen to watch their children perform and they were not disappointed. All the children performed two routines to the very best of their ability in front of a panel of judges. There were 5 categories in the competition ranging from novices (SDF grade 5) to the more advanced SDF grade 10. There was also a synchro category; where two children perform a synchronized routine on different trampolines. When performed accurately (as was the case at this competition) synchro routines look spectacular. All competitors received a certificate of achievement for entering and medals were awarded for high scorers in each category. Pictured here are the medal winners, from top left to bottom right:
Oliver Riley, Samantha Christien, Lily Fairhall, Tyla Burgess, Kirsty Munns, Ellie Stevens, Katherine Hodge, Ellie Gauge, Mia Marett-Gregory.
GYMNASTICS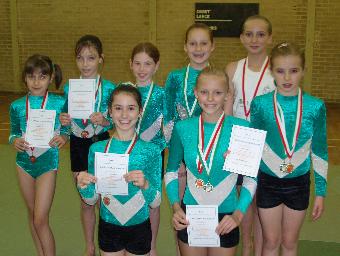 Gymnasts from Caterham and Horley competed in the "Saturn V" Inter Club Floor and Vault competition held at the Keys Centre in Horley on Saturday 17th November.There were two age categories: 9 years and under, and 10 years and over.
The gymnasts performed, in front of a panel of judges, an exacting floor to music, consisting of 10 gymnastic elements linked together with dance moves.They also performed two vaults each. Medals were awarded for third, second and first places in both categories and for both events.The competition inspired some exceptional performances and, as always, produced some very proud parents.
Pictured here are all the medal winners, from top left to bottom right: Megan Davies, Daisy Roadnight, Francesca Bagley, Danielle Minter, Michela Cooper, Louisa Del Maschio, Holly Bird and Abbie Clifton.
SCHOOLS TRAMPOLINING COMPETITION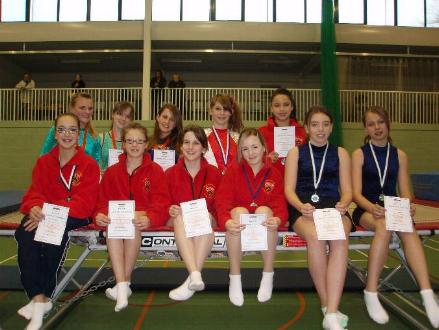 The first ever school's trampoline competition run as a partnership between the Saturn V Gym Club and the ESSSP (East Surrey Schools Sport Partnership) took place on Friday 14th December at Moor House School in Hurst Green.
The interst in this competition was very pleasing and all available places were quickly reserved. Students from Warwick, Beacon, Woodcote and Archbishop Tenisons all booked early and took part. Entrants were received for all grades from Grade 8 (beginner) to A3 (advanced.)
Organiser, Paul Kaye, said, "Saturn V have been organising club competitions for 16 years and we have always strived to run the events in a professional manner whilst providing a welcoming and friendly environment for the children. We were very pleased when we were approached to run the schools' competitons along similar lines."
The next ESSSP / Saturn V schools' trampoline competitions will take place in March 2008.
On the 14th March the competition will be devoted to "Novices" (those with special needs performing grades 5 to 7).
On the 28th March the competition will be for those on grades 8 to A3.
Forthcoming Competitions
Please see "Dates for your Diary" at the end of this newsletter for details of planned competitions for 2008.
Members' satisfaction survey
Congratulations to our coach Sefra Crilly who achieved the highest overall score in the June members' satisfaction survey. She achieved an impressive average score of 9.31 out of 10. Sefra coaches at de Stafford and William Road.
Many thanks to all of you who took the time to complete the survey. Your comments are really appreciated and help us to improve the service we and all the coaches provide.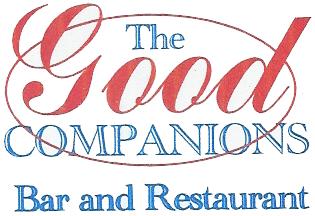 Winner of the January prize draw - which is included with the members' satisfaction survey- was Michaela O'Brien. She wins a three course meal for 2 with wine - courtesy of the Good Companions bar and restaurant in Hamsey Green. Michaela attends trampolining classes at the Moor House school branch with her daughters Aphra and Poppy. Michaela's husband also goes to trampolining classes with Shirley on Thursday evenings at William Road. The whole family have got the bug!
Half Term Holiday Trampolining Mega Session

The February half term Trampoline Mega Session is on Wednesday 20th February from 12.45 to 2.45. Minimum age for mega sessions is 6, unless already attending trampolining classes, in which case we can take from school age.
The mega session will be held at The Rebound Hall, William Road, Caterham on the Hill.
Cost is £8.50. Places are limited. To guarantee a place, please phone 01342 870543 to book before sending your payment to: Saturn V, Saplings, Felcourt Road, Felcourt,
Surrey, RH19 2LA. Or book and pay online at www.SaturnV.co.uk
William Road available for private hire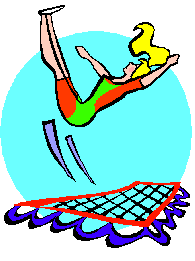 During school holidays, when the special needs schools and Kindergym are not in for their classes, we offer the available time slots to our members.
You can use the time booked for a family trampolining session, or for extra coaching for you and a few others, or even for some organised trampolining games for your family.
Sole use of the centre, complete with qualified trampoline coach is available for the same cost that the schools have during term time on contract - £29.50 per hour.
Available times for the remainder for 2008 are shown below under "Dates for your diary":
Maximum number of trampolinists at these sessions is 12.
To book, please phone Paul or Shirley on 01342 870543

Congratulations to the following Saturn V coaches who have passed coaching exams recently:


Kim Selsby has passed the grade 2 trampoline coaching exam,
Marie Clark has passed the grade 2 gymnastics coaching exam
Chris Bower has passed the grade 1 gymnastics coaching exam
Jumping for Charity

10 Saturn V coaches have agreed to perform a sponsored parachute jump in aid of the Chase Hospice for life-limited children. The organisation exists to provide help and support to families with children who are not expected to reach their 19th birthday. The jump will take place on 2nd March 2008 in Maidstone.
If you would like to sponsor any of the coaches, please contact the office.


How else can we help? When you grow out of your club leotard or fleece, don't throw it away. Ask your coach to offer it for sale to someone in the club who is not able to buy a new one. Secondhand club clothing always gets snapped up. The coach can then give the money to the association treasurer (Shirley) who will send it to Chase.
It can't have been on the rebound!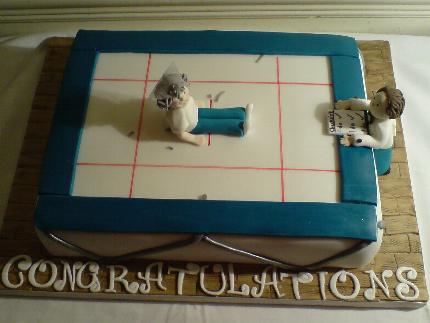 On 24th November, at Caterham Methodist Church, Paul and Shirley got married. The best man was their 8 year old son Jamie. The witnesses were Paul's 23 year old daughter Lois, and Shirley's 22 year old daughter Marie.The reception was held at the Good Companions restaurant in Warlingham, and, in a reversal of traditional roles, was organised by Lois (Paul's daughter) who is a manager there. The cake – in the shape of a trampoline of course – was made by a Saturn V coach; Beverley Hollands who is also a professional cake maker.

When asked why they have finally got round to getting married after all these years, Paul said, "All the traditional reasons of course, but also we didn't want to be unmarried grandparents."

Paul and Shirley would like to thank all their coaches and friends for all their good wishes – many of which were along the lines of, "about time too" and "is there a tax advantage then?!"
Spaces
We currently have spaces in the following classes:

Kindergym
William Road, Caterham:
Tuesday 12.45, Tuesday 1.15, Tuesday 2.45
Wednesday 1.15, Wednesday 1.45
Trampolining:
William Road, Caterham:
Monday 7.30 (teenagers class),
Monday 8.30 (adults class), Tuesday 4.30, Thursday 5.30,
Thursday 8.30 (adults class), Friday 4.00, Friday 5.00, Saturday 12.00
Warlingham:
Wednesday 5.15 and Wednesday 6.15
St Mary's, Oxted:
Monday 4.30, Monday 5.15
Tuesday 4.30 and Tuesday 5.15

Gymnastics:
de Stafford: Wednesday 6.00
If you have friends who would be interested in joining any of these classes, please ask them to contact Paul or Shirley on 01342 870543 or email info@SaturnV.co.uk
Top quality, Mid and Budget range garden trampolines all available through Saturn V.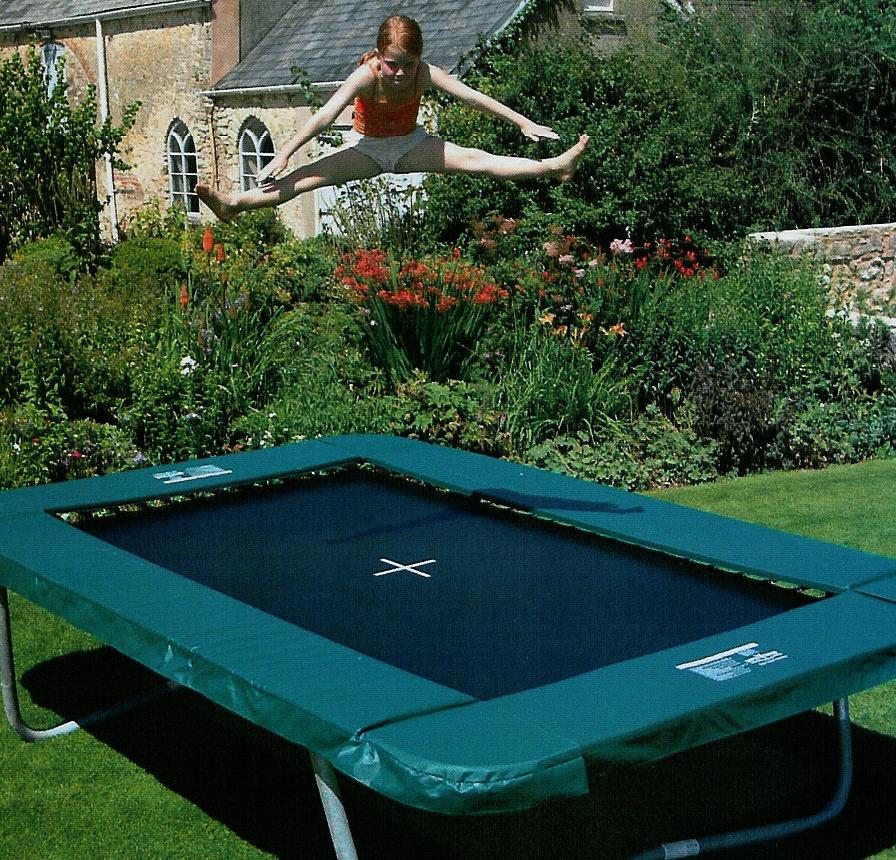 Saturn V are agents for the entire range of Supertramp Outdoor Trampolines. This includes the PlayLand mid range and Spring Time budget range models. Full details of all trampolines are on the website. Please click here to have a look http://www.saturnv.co.uk/supertramp/


You can now order trampolines and club clothing online and pay by PayPal, credit card or debit card.

Family Holidays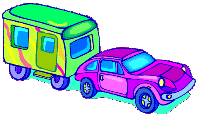 Those of you who miss classes due to family holidays are welcome and encouraged to make up the time by attending additional classes when you come back. Please note however that this facility is only available during school holidays. (During term time all classes are full so this facility would not be viable.)
If you would like advice as to which classes would be suitable to make up time, ask your coach or phone the office on 01342 870543.